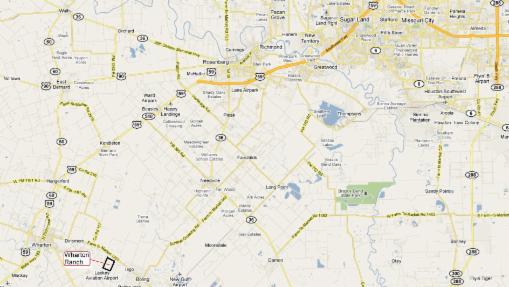 *. click on the map above for location from google map.

Directions:

take Hwy 59 south bound (towards Victoria) for about 30-40 mile depending on where you
start, take exit for "Wharton County Junior College" or 59 Business/Hwy 60 to get
off Hwy 59 turn left or go underneath the Hwy 59 to get on to 59 Business/Hwy 60 for
Wharton, follow the road (about 3 miles) until you see FM1301 (there is CVS store on
your left corner), turn left to get on to FM1301.
Drive about 5 miles, and turn right on to County Road 113 turn left on to County Road 156, the Wharton Ranch is 700 feets or 200 meters in front of you on your right - look for mail box
6250 CR 156. Or if you would miss to make the turn on to County Road 113 from FM1301, keep going you should see County Road 156 which shall intersect with FM1301 down the road, then turn right.